Wood Siding Repair And Replacement New Haven & Hartford County CT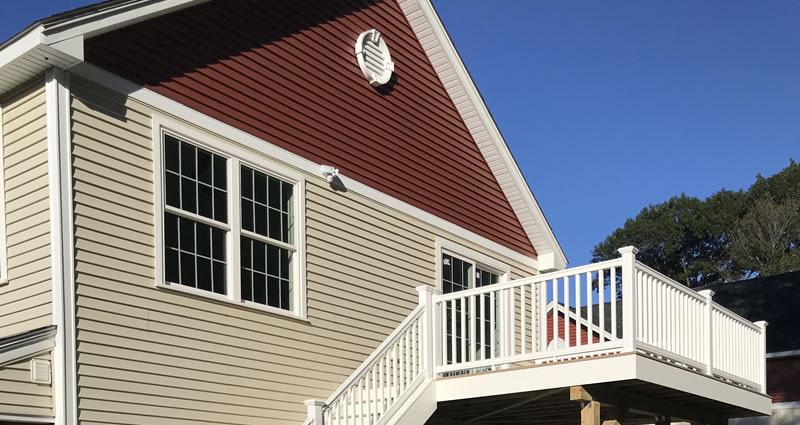 Wood Siding Repair And Replacement
Wood siding can look amazing when properly installed on your home but one of the problems with wood siding is that when exposed to the elements or water getting in behind it can eventually start to rot.  Replacing rotten wood siding is a fairly straight forward home improvement project and with proper care and installation you likely won't even know that a repair ever took place.
Specialized Carpentry LLC is a top quality home improvement contractor Serving Hartford County and New Haven County, CT.  We specialize in installing, replacing, and repairing wood siding on homes, barns, sheds, and garages.  Whether you need to repair a few rotten sections of wood siding, you want to replace all your wood siding, or you need a new installation on a shed, garage or outbuilding, we can help.
Wood Siding Replacement and Repair
Rotten wood siding repair
Wood siding replacement
New wood siding installations
Wood Siding Repairs
When wood siding is installed and maintained it's not uncommon for it to last for 30 or 40 years without any issues. But there are still isolated areas that can begin rotting in only a few years if the siding wasn't installed correctly.  The most common place for wood siding to rot is usually closer to the ground often near the foundation of your home. When it rains heavily water can splash up from the ground which can keep the siding very wet.  Eventually the siding will begin to rot.
Another frequent issue we are called to repair is wood siding that has been attacked by wood boring pests such as termites.  Once the pest problem has been taken care of we can repair or replace the damaged section of siding.
Why Choose Specialized Carpentry LLC For Your Wood Siding Project?
When you hire Specialized Carpentry LLC to install your wood siding you're partnering with a small team of local craftsman.  Both Marc and Tony have over 25 years of experience in the construction and remodeling industry and they'll be the ones working on your project with their own capable hands.
You will deal with either Marc or Tony from the first consultation all the way until your wood siding project is completed.  We have an eye for detail and fine craftsmanship, we are clear communicators, we keep a clean job site, and we always aim for complete customer satisfaction with every project.
If you'd like an estimate to install or repair wood siding on your home please give us a call (203) 509-0123 or fill out our contact form and we'll get right back to you.