Wood decks New Haven & Hartford County CT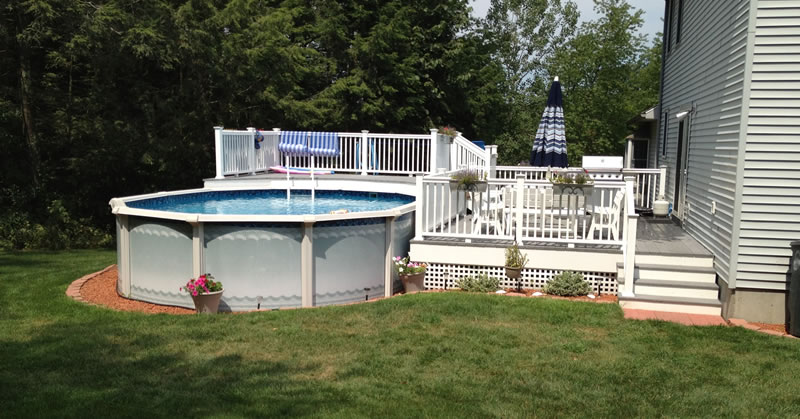 Wood Deck Construction
A custom built wood deck is an excellent way to get more enjoyment out of your property and increase it's value at the same time.  Many decks today are built out of wood because it's affordable, readily available, and it's easy for your builder to work with depending on the type of wood you choose.
The most affordable and commonly used type of wood for decking would be pressure treated lumber.  However, there are other more exotic choices too if you're wanting to build your deck out of popular redwood, cedar or the even more luxurious Ipe.  These materials come with a higher cost but make for a more elegant deck.  Natural decking materials offer a certain richness, and feel that you can only get from using wood.
Specialized Carpentry LLC is a top quality construction contractor Serving Hartford County and New Haven County, CT.  We specialize in designing and building custom wood decks using pressure treated lumber, cedar, redwood, or Ipe.  From a simple deck off your back door to an elaborate multi-level deck or even a deck that surrounds your pool we'll be able to build an awesome deck that everyone in your family will love to use and enjoy.
Photos Of Custom Decks We've Built
Difference Types Of Wood For Building Decks
Pressure Treated Decking:  The most common decking material.  It's very resistant to rot and insects and it also withstands moisture very well.  Because of it's availability it's also the most affordable material.  Even on more expensive decks pressure treated is often used as the deck framing.
Pressure treated wood doesn't necessarily need to be painted if you like the dark brown, or dark green color variations that it comes in.  Most pressure treated decking material is milled from southern yellow pine.  Specialized Carpentry can build you a deck out of pressure treated lumber throughout the New Haven County area.
Redwood & Cedar Decking: If you want the finest material and budget isn't an issue then redwood or red cedar are great choices for your new deck. Both of  these western softwoods are highly sought after for their deep rich colors and natural beauty. Both of these wood species actually contain tannins and oils that help them naturally resist rot, decay, and wood boring insects without having to be treated with harmful chemicals.  The crew at Specialized Carpentry are cedar decking experts!
Ipe Decking:  Also known as Brazilian Walnut or Ironwood, Ipe pronounced (Ee-pay) is beautiful looking exotic wood from South America.  Ipe is naturally very resistant to rot, abrasion & weather which makes it a good candidate for a deck in our Connecticut climate.  Ipe's great looks and performance don't come without cost however as it's more expensive than Cedar.  Ipe is definitely not a budget deck material but it is one of the best.
If there was just one single exterior home improvement any Connecticut homeowner could make to their home, that would enhance both the look and property value it would be the addition of a new custom wood deck. Not just any old deck will do however, and there are several things you need to consider before you get to work building your deck.  That's why choosing an experienced team like Specialized Carpentry is your best choice!
Rebuilding An Old Deck
There are many instances where our customers want to rebuild or redeck an existing wood deck.  So long as the deck framing is still in good condition we can often just remove the old, rotting, decking and replace it with new wood.  We'd need to inspect your existing deck to be sure.
3D Deck Design Rendering
We offer professional 3D deck designs and renderings of your new decking project before construction begins.  This allows you to have a visual representation of your new deck before any work has begun so you can see how it will look on your home.  We can change layouts, railing styles, dimensions, colors, and more until you're 100% happy with the deck we're going to build.
Why Choose Specialized Carpentry LLC For Your Deck Building Project?
When you hire Specialized Carpentry LLC to build your custom wood deck you're partnering with a small team of local craftsman.  Both Marc and Tony have over 25 years of experience in the construction and remodeling industry and they'll be the ones working on your deck with their own capable hands.
You will deal with either Marc or Tony from the first consultation all the way until your deck is completed.  We have an eye for detail and fine craftsmanship, we are clear communicators, we keep a clean job site, and we always aim for complete customer satisfaction with every project.
If you'd like an estimate for your deck construction project please give us a call (203) 509-0123 or fill out our contact form and we'll get right back to you.