Vinyl Siding Replacement New Haven & Hartford County CT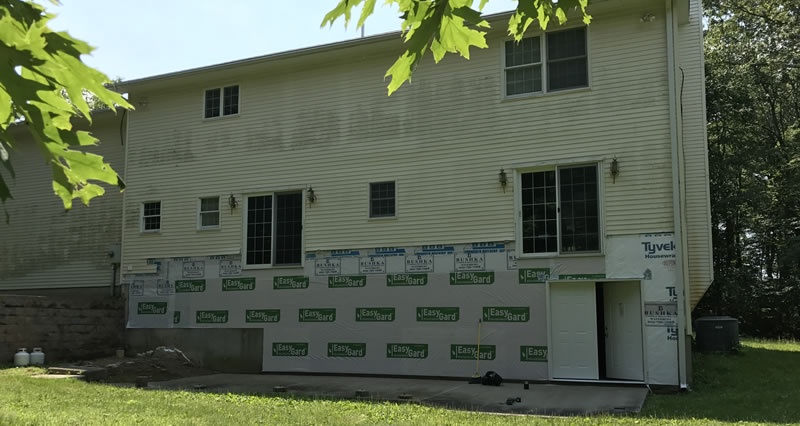 Vinyl Siding Installation, Replacement, And Repair
Has your vinyl siding faded away from it's original color after years in the sun and elements?  Has it begun cracking or needs repair in some areas?  New Vinyl Siding is a great way to enhance the look of your Connecticut home.  Vinyl siding is an affordable, durable choice for an exterior home improvement to enhance curb appeal.
Specialized Carpentry LLC is an exterior home remodeling contractor based out of New Haven County, Connecticut.  We specialize in vinyl siding repair, vinyl siding replacement, and new siding installations for sheds, shops, garages, and other outbuildings.
Vinyl siding is still one of the most popular choices for Connecticut homeowners because of the low maintenance requirements (wash 1 or 2 times per year) and vinyl siding comes in a huge variety of colors and styles to enhance the looks and value of your home.  Specialized Carpentry sells and installs only high quality Vinyl Siding products so that your home is protected by the best vinyl siding material on the market and is supported with an outstanding warranty.
Vinyl Siding Selection Tip:  When you are looking at different Vinyl Siding manufacturers pay close attention to the thickness of the material.  Most siding ranges from .030 to .050 inches and the higher quality vinyl siding will almost always be over .040 inches.  Try to avoid vinyl siding under .040 inches as it can be easily damaged and is nowhere near as durable as the much thicker siding.
Specialized Carpentry will provide you an estimate based on the square footage of your home exterior.  We can offer you several different material options within your price range.
All Our Vinyl Siding Projects Include:
Removal of old siding and proper disposal
Inspection of your home exterior (building envelope)
Detailed measurements and meticulous fit
No trash or debris left behind
Siding is an important exterior decorating detail on your home, and helps protect the inner structure from the elements.  One of the more common mistakes, or "time-savers" you'll see with other siding contractors is their lack of attention to the finer details of a siding job, like making sure ends meet up around windows, and other areas that need to be trimmed.
Vinyl Siding Repairs
If your vinyl siding has been damaged or is just old and brittle we can often repair small sections.  It's important to keep in mind though that if your siding is aged and sun faded getting a perfect color match might be difficult.  In some cases a repair can be made but in other situations often the best option is to replace the siding with a newer material.
Why Choose Specialized Carpentry LLC For Your Siding Project?
When you hire Specialized Carpentry LLC to install, repair, or replace your siding you're partnering with a small team of local craftsman.  Both Marc and Tony have over 25 years of experience in the construction and remodeling industry and they'll be the ones working on your siding project with their own capable hands.
You will deal with either Marc or Tony from the first consultation all the way until your siding project is completed.  We have an eye for detail and fine craftsmanship, we are clear communicators, we keep a clean job site, and we always aim for complete customer satisfaction with every project.
If you'd like an estimate to install new siding on your home please give us a call (203) 509-0123 or fill out our contact form and we'll get right back to you.