Pergola Construction New Haven & Hartford County CT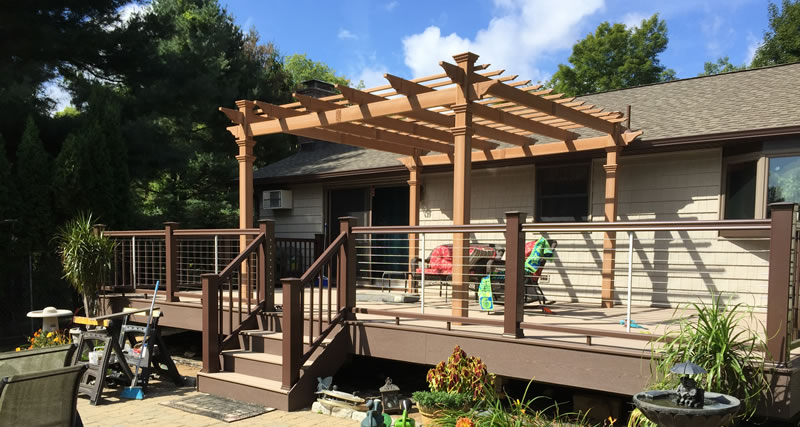 We Build Custom Pergolas
Pergolas are like the over-sized cousin of the arbor, quite a bit bigger, they also often feature a sloping roof, or sometimes they don't even have a roof at all.  Pergolas are usually free standing structures built on a deck or a patio but sometimes they can be attached to your home or building.
Pergolas can provide a semi-protected area to relax and enjoy your backyard.  Pergolas can be built with no roof at all if you only plan to use the structure for spring and summer, in which case wooden post and beam structures are usually very popular.
Specialized Carpentry LLC is a top quality carpentry contractor Serving Hartford County and New Haven County, CT.  We specialize in designing and building custom pergolas, arbors, and gazebos for our clients who are looking for something that is higher quality than a kit available at big box home improvement stores.  We can design your pergola to compliment any existing space whether it's your backyard, your back deck, a patio, or a pool deck.
Pergolas or arbors also make great homes for crawling plants such as a clematis and even grapes!
Custom Pergola And Gazebo Construction
Wood pergola construction
Cedar pergola construction
Wood gazebo construction
Pergola 3D design
Custom Built Wood & Cedar Pergolas
There are dozens of different styles of Pergolas available at your local home improvement stores.  They usually come in kits that you have to assemble on site.  While we can certainly build those for our customers our specialty is designing and building custom Pergolas for our clients.  Whether you want to have a pergola built on your deck, patio, or in your garden we can design and build the perfect function pergola for your space.
3D Pergola Design Rendering
We offer professional 3D design renderings of your pergola project before construction begins.  This allows you to have a visual representation of your new pergola so you can get a good idea on how will it look on your property before we've started to build it.  We can change layouts, designs, dimensions, finishing styles, and more until you're 100% happy with what you're going to receive.
Why Choose Specialized Carpentry LLC For Your Pergola Project?
When you hire Specialized Carpentry LLC to build your pergola you're partnering with a small team of local craftsman.  Both Marc and Tony have over 25 years of experience in the construction and remodeling industry and they'll be the ones working on your project with their own capable hands.
You will deal with either Marc or Tony from the first consultation all the way until your pergola project is completed.  We have an eye for detail and fine craftsmanship, we are clear communicators, we keep a clean job site, and we always aim for complete customer satisfaction with every project.
If you'd like an estimate to build a new pergola on your property please give us a call (203) 509-0123 or fill out our contact form and we'll get right back to you.